What does a chimney inspection cover?
An annual chimney inspection looks for buildup and blockages, followed by sweeping to remove problems inhibiting performance.
A level-one chimney inspection includes a visual check of the fireplace and chimney without any special equipment or climbing up on it. Once there, an experienced professional will use their flashlight to look for damage in order to tell you if they may need sweeping right away before taking care of all obstructions with brushes at hand as well as using extension poles when needed!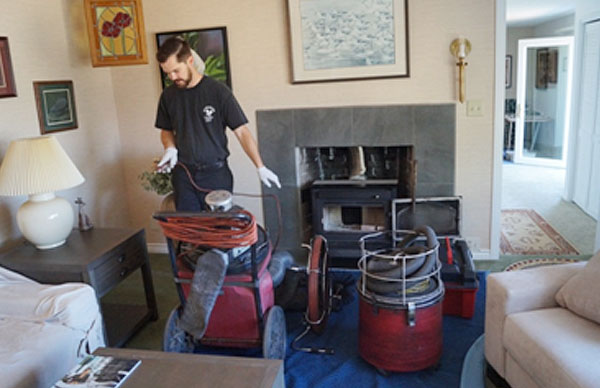 Difference between a chimney sweep and chimney inspection
The difference between a chimney sweep and a chimney inspection is slight but crucial. Cleaning removes the deposits that have built up over time. Inspections are professional examinations of the installation, condition, and structure of your chimney. A professional chimney sweep and cleaning service always include a basic chimney inspection as part of the chimney cleaning process. Chimney sweeps and inspections are both essential to maintaining the safety of your home.
Chimney Inspection Services
We want to make sure that your family and chimney are safe and at the proper speed for burning wood or coal. When you request a chimney inspection with us, here are some things we'll check on:
Wood Burning Chimney Inspection
Gas Burning Chimney Inspection
Upholding Professional Standards in the Chimney Service Industry
CSIA Certified Chimney Sweeps®
Video Inspection Equipment
Photos of your Chimney's Exterior
HIRE US FOR A CHIMNEY INSPECTION
​​Don't take the risk of a dirty chimney. If you're experiencing any issues with your home's fire-hazardous environment, Schedule an appointment with our Certified Chimney Inspectors today to get your questions answered and find out what needs repairing or adjusting before it's too late!
Sweep & be safe with Firesafe!
Call now! +1 (877) 520-0262
WHY CHOOSE US?
Our dependable and reliable service has made us the #1 chimney company in California. When your chimney is dirty or damaged, our professionals will fix it and do the job right the first time.
We care about your family's safety. That's why we also offer a free estimate to help you get an idea of what your fireplace and chimney may need before disaster strikes from a preventable fire.